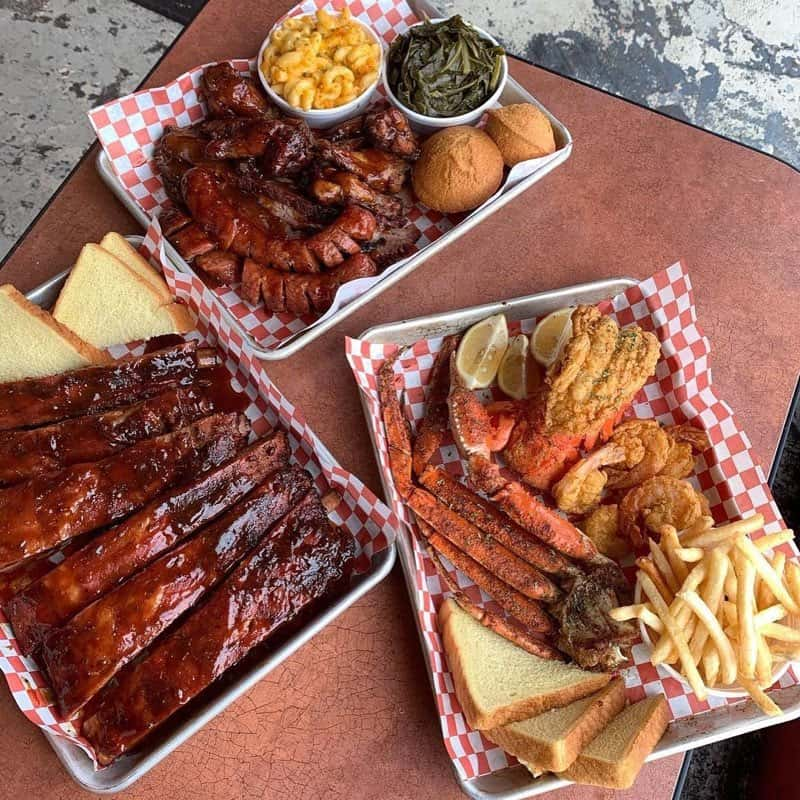 Hattie Marie's
Now Serving at 3 Locations
It's Pecking Time
Servin' Up Texas-Style BBQ in Our Cajun Kitchens!
Only the Best
A taste of Port Arthur, TX is taking over Atlanta! We have the best smoked BBQ ever! Hattie Marie's Texas Style BBQ is going to blow your mind!
Get It Now
**All of our delicious meats are smoked low and slow daily onsite. Because we only sell fresh food, we may sell out of certain items.**
Loved it? Review it!
Leave a Review
"Listen to me. I live in Texas and this restaurant took the cake the ribs was so good I took them back to Texas just so my fam could taste them. I'm from New Orleans I'm picky and ion even like bbq that much ooo but I'm comin back !!!"
"It was very delicious delicious is a understatement. It was awesome,very tasty. I recommend this restaurant to anyone who love good southern bbq."
"The best!! **Hands down** Can't wait to come back!"
"Food and service was excellent. My new favorite bbq spot!!"
"The food was fresh and amazing. It was good atmosphere and clean inside the resturant . You have to try their food you will not be disappointed"
"Hattie Marie's provides AMAZING food, that is consistent everytime! The food is always hot, plated properly and portion sizes are great! Customer service is great also I love being served by Maya, she's great! The whole staff is great!"
"Listen to me. I live in Texas and this restaurant took the cake the ribs was so good I took them back to Texas just so my fam could taste them. I'm from New Orleans I'm picky and ion even like bbq that much ooo but I'm comin back !!!"
"It was very delicious delicious is a understatement. It was awesome,very tasty. I recommend this restaurant to anyone who love good southern bbq."
"The best!! **Hands down** Can't wait to come back!"
"Food and service was excellent. My new favorite bbq spot!!"
"The food was fresh and amazing. It was good atmosphere and clean inside the resturant . You have to try their food you will not be disappointed"
"Hattie Marie's provides AMAZING food, that is consistent everytime! The food is always hot, plated properly and portion sizes are great! Customer service is great also I love being served by Maya, she's great! The whole staff is great!"
"Listen to me. I live in Texas and this restaurant took the cake the ribs was so good I took them back to Texas just so my fam could taste them. I'm from New Orleans I'm picky and ion even like bbq that much ooo but I'm comin back !!!"